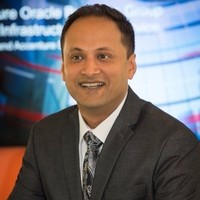 Subhashish Acharya (known as "Subs" to his friends) came to the U.S. from Kolkata, India eleven years ago. He lives in Lowell, Massachusetts, "right downtown, where the action is". After working at Oracle for a decade, he recently joined PTC to manage the Strategic Alliances with HP globally for IoT.
"The thing I've enjoyed most is the people in the country." Characterizing himself as "an explorer", he explains further. "Americans are kind, straight-forward, very, very helpful, considerate, polite and friendly. I have been able to connect with them seamlessly. I have met exceptional people here. Am proud I have met them."
Subs believes most Indians misunderstand the people in America. "Movies and pop culture shape us, but that is not a correct perception."
Giving an example, he says "In India, a 'no' sometimes means 'convince me'. So, most Indians try to convince a person to death in our communication. It is a complex activity which simply wastes time in communication. Most Americans, on the other hand, perceive 'no' as a 'no'. It's straightforward, simple and direct."
Subs had several tips for those coming to the U.S. to live and work:
"Learn the American sarcasm. Try it. It's amazing and intellectually humorous."
"Meet people. Understand them. Go to the bar with them. Have a drink with them. Go with their family on treks, if needed. Learn to adapt."
"Do not worry about your English. Americans are highly adaptable creatures. They totally know how to work around you and with you."
One last thing. Subs and I met on a plane about six years ago or so, when he inquired about a book I was reading. During our conversation, he told me about the non-profit organization he founded here in the U.S., created to assist blind people in finding work. As the plane landed, we exchanged contact information and agreed to keep in touch. What I've come to know about Subs over the years is that he has a strong belief in giving back and making a difference. "You have to give back to the country. Make things better." To date, Project Starfish has created jobs for over 300 blind people in the USA. Now, that's making a difference!
Learn more about Subs and Project Starfish!